Sharing a Passion for Training: Annual Seminar Helps Firefighters Stay Safe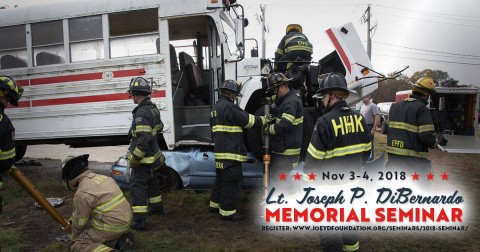 FDNY Lt. Joseph P. DiBernardo, also known as "Joey D," knew that being a great firefighter took passion, initiative, and constant personal growth. He was not only a renowned fire service instructor, but he was also a life-long student. His legacy for training firefighters lives on through the Lt. Joseph P. DiBernardo Memorial Foundation and Annual Seminar.
Motivated firefighters from across the country will gather again in Long Island, New York, on November 3-4, 2018, to hone their craft and honor a fallen brother. The Annual Lt. Joseph P. DiBernardo Memorial Seminar not only provides training to firefighters, it helps to sustain the Foundation's grant program which provides life-saving personal safety systems (PSS) to fire departments in need throughout North America.
Throughout the weekend, you will gain valuable insights during classroom training with world-class fire service instructors such as FDNY Battalion Chief John Salka (Retired), Chief Dennis L. Rubin, Fire Chief Robert Fling, and FDNY Lieutenant Ray McCormack. With more than a dozen hands-on training opportunities, including Flashover/Firefighter Survival, Advanced Vehicle Extrication, and Chief Officer Workshop, the weekend offers something for every firefighter or fire officer.
Additionally, U.S. Navy SEAL Ryan "Birdman" Parrott, an author, speaker, and founder of two non-profits that benefit veterans and first responders will begin Day Two with an informative and engaging seminar. "Since 2013, with the generous support from our sponsors, partners, and the fire service, the Foundation has awarded over $242,000 in grants to help departments keep their members safe," says Chief Joe DiBernardo. "When you attend the seminar, you are ensuring that one day, every firefighter has the training and equipment they need to safely escape a fire. We look forward to the day that no family, department, or community suffers the devastating impact of another 'Black Sunday.' "
On that tragic day in FDNY history, a Bronx fire claimed the lives of two firefighters and forever changed the lives of the surviving firefighters and their families. Firefighter Jeff Cool's personal life safety rope helped him and Joey to escape, as they were forced to jump from a 4-story apartment building with fire raging behind them.
You can be a part of this great event that helps keep you, your community, and the fire service safe. Reserve your spot for the 2018 Lt. Joseph P. DiBernardo Memorial Seminar today, visit www.joeydfoundation.org/seminars/2018-seminar. Learn more about Joey and the Lt. Joseph P. DiBernardo Memorial Foundation at www.joeydfoundation.org.
Stay Informed
When you subscribe to the blog, we will send you an e-mail when there are new updates on the site so you wouldn't miss them.