2019 Lt. Joseph P. DiBernardo Memorial Training Seminar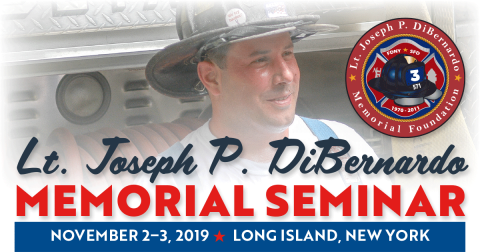 Saturday, November 2 - Sunday, November 3, 2019
Hone your firefighting skills at the 2019 Lt. Joseph P. DiBernardo Memorial Training Seminar. Our firefighter training seminars are taught by world-class fire service leaders. This great weekend of fire department training benefits the Lt. Joseph P. DiBernardo Memorial Foundation's grant program which helps fire departments provide Personal Safety Systems (PSS) to their firefighters.
Pricing
Hands-On and Lecture (Both Days) – $175
Hands-On Only (Saturday AM and PM) – $125
Lecture Only (Sunday) – $100
Fire Police (Saturday AM Session Only) – $65
Department vouchers are accepted until October 15, 2019 (No Cancellations After October 15, 2019). Online registration and personal checks are accepted.Firefighter Hands-On Training – November 2, 2019 Suffolk County Fire Academy 676 Maple Street Yaphank, NY 11980Thank You to the Suffolk County Fire Academy for their continued support of the Lt. Joseph P. DiBernardo Memorial Training Seminar.
Join us for the third year of hands-on training at the 2019 Lt. Joseph P. DiBernardo Memorial Training Seminar. Train for your next response with one of our 8-hour courses or two of our half-day hands-on opportunities including:
LIVE FIRE – RESIDENTIAL FIRES
These evolutions are designed for inexperienced firefighters or officers to develop skills for the fireground. Hose handling, search, and communications are some of the areas that will be stressed during the drills.
LIVE FIRE – COMMERCIAL FIRES
These evolutions are designed for the firefighter or officer to develop skills on the fireground in a commercial setting. Hose handling, search and communications are some of the areas that will be stressed during the drills.
MAN VS. MACHINE
Mark Gregory, PL Vulcan
BAILOUT ROPE SYSTEMS
Chris Botti, Rescue Products International
This program begins with an overview of the history of bailout rope systems and harnesses. Students will get first hand knowledge of NFPA Standards, makeup and composition, how they are utilized properly, and the proper maintenance and upkeep of these systems. We will have many different manufacturers and styles of systems. Students will then be taught proper usage and will conduct hands on bailouts in full turnout gear.
PORTABLE LADDER OPERATIONS: TIPS AND TRICKS
FDNY Lieutenant Michael Ciampo
SETTING UP FOR SUCCESS: TOWER LADDER OPERATIONS AND PLACEMENT
Chris Eysser and Will Hickey
This presentation is an interactive discussion on tower ladder placement. The student will review how to prepare, rehearse, execute tower ladder placement. Building construction, occupancy, placement obstructions will be discussed.
ELEVATOR RESCUE (8-HOUR PROGRAM, LIMITED AVAILABILITY)
Mike Dragonetti, Dragon Rescue
THERMAL IMAGING (8-HOUR PROGRAM, LIMITED AVAILABILITY)Bob Athanas, Safe IR
FORCIBLE ENTRY
Dan Gordon, Flash Fire Industries
This forcible entry class includes hands-on stations for both conventional forcible entry and forcing outward opening doors. Conventional inward forcible entry will consist of size-up and utilization of the gap, set, and force technique on real doors. Outward forcible entry will also utilize the gap, set, and force technique. It will also show ways to enhance leverage and force for fortified exterior doors. Metal cutting will focus on proper saw and blade selection and allow students the opportunity to operate portable power saws. Students will become comfortable cutting a variety of different metals in a variety of different positions (i.e. overhead, vertical, horizontal, etc).
ADVANCED RAPID INTERVENTION
Bryan Kelly
FLASHOVER/FIREFIGHTER SURVIVAL
One of the leading causes of traumatic LODDs is failure to recognize changing fire conditions. This course teaches the participant to recognize the critical warning signs of flashover and the science related to fire development.
ADVANCED SCBA-MAZE
Firefighters will improve their ability to operate in difficult and stressful environments. Students will participate in a challenging room orientation scenario and negotiate an advanced Mask Confidence course.
STANDPIPE OPERATIONS
Not all standpipe operations are performed in the same way. This course will outline tasks that will always be performed before firefighters advance a hoselines.
FIRE POLICE REFRESHER
Flares, cones, and vest are not enough. This class teaches the tactics necessary to ensure that all personnel operates safely on dangerous roadways.
BASIC EXTRICATION
This course focuses on basics of vehicle design and components. Students will get hands-on including door pops, removing the roof, and a dash displacement. This is an excellent class for the extrication novice or those officers who want to get a better understanding of the tools and their capabilities.
ADVANCED VEHICLE EXTRICATION
This class challenges firefighters with difficult extrication scenarios. Vehicles are staged in precarious positions with victims trapped. Students, under the guidance of seasoned instructors, will work together to successfully extricate the victims.
Classroom Firefighter Training – November 3, 2019
Gelinas Middle School
25 Mud Road
Setauket, NY 11733
Day two of the 2019 Lt. Joseph P. DiBernardo Memorial Training Seminar will feature world-class fire service instructors who will discuss relevant topics that are sure to keep you sharp for your next call!
Keynote: Battalion Chief John Cagno (Ret.), North Providence Fire Department
Battalion Chief Cagno, served over thirty years with the North Providence Fire Department and retired in 2011. In 2014, John became an author, sharing his story to help empower others. His book Boy in a Box, co-written with Paul Lonardo, recalls his childhood, overcoming adversity, and his recovery from catastrophic electrical burns that he suffered in a 1980 training exercise.
Read More About Battalion Chief Cagno
OPTIMIZING HUMAN PERFORMANCE AT FIRES
FDNY Lieutenant Jason Brezler, Major U.S. Marine Corps
This presentation will examine history, relevant literature, and over a century's worth of psychology and neuroscience to demonstrate that the most significant scientific discipline impacting the fireground is related to human performance under stress. Optimizing Human Performance at Fires will provide an introductory examination of four critical dimensions: 1) Attributes of the fireground environment, 2) Routine cognitive function, 3) Psychological and physiological performance under stress, and 4) Building resilience through training.
TRUCK COMPANY OPERATIONAL TACTICS & TIPS
FDNY Lieutenant Michael Ciampo
On every fireground or emergency scene, the Truck Company has specific duties to accomplish. Many times, the task we encounter may be out of the norm and the textbook method of operating might not fully solve the problem. Street Smart operational tactics and tips may have to be deployed to solve the problem so we can operate wisely and safely on the fireground. This lecture will cover numerous tactical tips in the Truck Company's "LOVERS-U" operational duties (Ladders, Overhaul, Ventilation, Entry, Search and Utilities) that have been proven to be beneficial to any firefighter performing truck work.
AVOIDING NO WAY OUT SITUATIONS
Battalion Chief John Cagno
Avoiding No Way Out Situations discusses how to be a street-smart, intuitive firefighter through mental alertness and key mind functions.
Stay Informed
When you subscribe to the blog, we will send you an e-mail when there are new updates on the site so you wouldn't miss them.